Fluorosilicone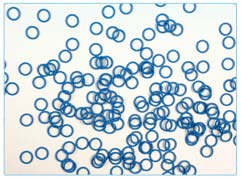 ■ (Fluorosilicone) (FVMQ; FK):
In addition to the properties of silicone, such O-ring rubber also has good fluid resistance, but its resistance to ketones and phosphate esters is relatively poor, which can be improved after mixing with dimethyl silicone. Its fluid resistance is slightly worse than carbon tetrafluoride rubber (especially the resistance to fluids containing aromatic substance), but it is still the first choice when the resistance to deflection and fluids at low temperature is required.
Its electrical resistance is common and has low compression deformation and resistance to ozone and weather. It is a kind of expensive material for special purpose, which is mainly used in seal, diaphragm, O-ring, lining of containers, electrical safety shoes, etc.
■ Limitation:
Avoid solvent, hydrocarbon liquid, phosphate ester, brake fluid. Easy to be affected by acid and base hydrolysis.Limited friction resistance.
■ Chemical resistance:
Methyl disiloxane is combined via CF3.
Designation:FVMQ
ISO 1629 Designation:FMQ
ASTM D2000/SAE J200 Type, Class: FK
■ Trade name:
FVMQ SILASTIC LS® FSE®